Sobre nosotros
Tandoori House te ofrece la más exquisita variedad de India que puedes encontrar en Alicante. Ven a visitarnos o haz tu pedido online. Verás como te sorprenderemos con nuestras especialidades.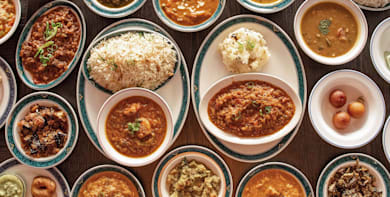 Opiniones
16 comentarios
Candace
"This was wonderful! The food was perfect, the delivery was fast. I'm looking forward to dining with them again."
20/07/2020
Frank
"Best Indian food on JustEat, for price and quality. The curries match expectations which is important"
05/07/2020
EMILIO
"El tiempo estimado era demasiado corto. Así que no hay problema."
24/06/2020
Menú
Pilau Rice (Basmati)
Arroz pilau (basmati)
2,50 €
Special Fied Rice
Arroz frito especial
3,30 €
Mushroom Rice
Arroz con champiñones
3,30 €
Lemon Rice
Arroz con limón
3,30 €
Coconut Rice
Arroz con coco
3,30 €
Vegetables Biryani
Biryani de verduras
9,95 €
Chicken Biryani
Biryani de pollo
10,95 €
Shahi Chicken Biryani
Biryani de pollo Shahi
11,95 €
Prawn Biryani
Biryani de gambas
11,95 €
king Prawn Biryani
Biryani de langostinos
13,95 €
Chicken Tikka Biryani
Biryani de pollo Tikka
11,95 €
Lamb Tikka Biryani
Biryani de carne Tikka
12,95 €
Lamb Biryani
Biryani de carne
11,95 €
Tandoori House Special Biryani
Biryani en Tandoori House especial
12,95 €
Half Tandoori Chicken
Tandoori de pollo (medio)
8,50 €
Chicken Tikka
Pollo tikka
8,95 €
Tandoori Mixed Grill
Parrillada de carne tandoori
10,95 €
Chicken Shashlik
Shashlik de pollo
10,95 €
Lamb Shashlik
Shashlik de cordero
11,95 €
Tandoori King Prawn
Langostinos tandoori
11,95 €
Chicken Tikka Masala
Pollo tikka masala
9,95 €
Lamb Tikka Masala
Cordero tikka masala
10,95 €
Tandoori King Prawn Masala
Langostinos tandoori masala
12,95 €
Chicken Pasanda
Filetes de pollo marinados, con salsa de yogurt y cocinadas en nata fresca, frutos secos molidos y almendra en polvo
9,95 €
Lamb Pasanda
Filete de cordero marinados, con salsa de yogurt y cocinadas en nata fresca, frutos secos molidos y almendra en polvo
11,95 €
Karahi Chicken
Trozos de pollo asados en un horno tanduri, cocinados con ajo, jemgibre, tomate, cebolla, pimiento y coriantro fresco
9,95 €
Karahi Lamb
Trozos de cordero asados en un horno tanduri, cocinados con ajo, jemgibre, tomate, cebolla, pimiento y coriantro fresco
11,95 €
Karahi King Prawn
Langostinos asados en un horno tanduri, cocinados con ajo, jemgibre, tomate, cebolla, pimiento y coriantro fresco
12,95 €
Chicken Tikka Jalfrezi
Pollo tikka jalfrezi
Bastante caliente con chile verde
9,95 €
Lamb Tikka Jalfrezi
Cordero tikka jalfrezi
Bastante caliente con chile verde
11,95 €
King Prawn Jalfrezi
Langostinos jalfrezi
Bastante caliente con chile verde
12,95 €
Butter Chicken
Filetes de pollo suavemente picantes, cocinados en horno de arcilla con yogurt y nata fresca con mantequilla por encima
9,95 €
Achar Gosht
Plato bastante picante, trozos de cordero marinado cocinados en horno de arcilla con yogur y nata fresca con mantequilla por encima
10,95 €
Chicken Shalsa
Filetes de pollo marinado cocinados en un tentador encurtido de mango, acompañado de guindillas verdes enteras
10,95 €
Lamb Shalsa
Filetes de cordero marinado cocinados en un tentador encurtido de mango, acompañado de guindillas verdes enteras
12,95 €
Amere Mugh
Delicioso plato suave de pollo cocinado con pulpa de mango, especias suaves, nata fresca y almendras
9,95 €
Tandoori Shaslik
Combinación de pollo y cordero marinado, pollo tandoori y sheek kebab, cocinados con ghee en una salsa especial suave y con nata fresca por encima
13,95 €
Special Garlic Chicken
Pollo marinado cocinado en un horno tanduoori, luego fileteado finamente, cocinado con dientes de ajo machacados, cebolla, pimiento, una mezcla especial de especias y coriandro fresco (medianamente picante)
9,95 €
Jaipuri Chicken
Pollo marinado, cocinado con champiñones fritos, cebolla y pimineto con massalam Punjabi (medianamente picante)
9,95 €
Jaipuri Lamb
Cordero marinado, cocinado con champiñones fritos, cebolla y pimiento con massalam Punjabi (medianamente picante)
11,95 €
Nawabi Chicken
Plato jugoso medianamente picante, pollo marinado, cocinado con almendra en polvo y ajo fresco
9,95 €
Nawabi Lamb
Plato jugoso medianamente picante, cordero marinado, cocinado con almendra en polvo y ajo fresco
11,95 €
Mathi Kalia Chicken
Filetes de pollo marinado con ajo, espinacas y salsa de lentejas. Una maravillosa combinación aromática
9,95 €
Mathi Kalia Lamb
Filetes de cordero marinado con ajo, espinacas y salsa de lentejas. Una maravillosa combinación aromática
11,95 €
Balti Chicken
Balti de pollo
9,95 €
Balti Lamb
Balti de cordero
10,95 €
Chicken Tikka Balti
Pollo tikka balti
10,95 €
Balti Prawn
Balti de gambas
10,95 €
Balti King Prawn
Balti de langostinos
12,95 €
Chicken & Chana Balti
Balti de pollo con garbanzos
10,95 €
Balti Mix Bahari
Balti bahari variado
11,95 €
Chicken Curry
Curri de pollo
7,95 €
Chicken Madras
(Fairly hot)
Madras de pollo (bastante picante)
7,95 €
Chicken Vindaloo
(Very hot)
Pollo vindaloo (bastante picante)
7,95 €
Chicken Ceylon (Fairly Hot with Coconut)
Ceylon de pollo (bastante picante con coco)
7,95 €
Chicken Korma (Mild Dish Cooked with Cream)
Korma de pollo (plato suave cocinado con nata)
7,95 €
Chicken Malaya (Mild Dish with Pineapple)
Makaya de pollo (plato suave cocinado con piña)
7,95 €
Chicken Dopiaza (Spicy with Onions)
Dopiaja de pollo (especiado con cebollas)
7,95 €
Sag Chicken (Spicy with Spinach)
Pollo sag (con espinacas)
7,95 €
Chicken Bhuna (Spicy & Slightly Dry)
Bhuna de pollo (especiado y ligeramente seco)
7,95 €
Chicken & Mushrooms Curry
Curry de pollo y champiñones
7,95 €
Lamb Curry
Curri de carne
9,95 €
Lamb Madras (Fairly Hot)
Madras de carne (bastante picante)
9,95 €
Lamb Vindaloo (Very Hot)
Carne vindaloo (bastante picante)
9,95 €
Lamb Phal (Very Hot)
Carne phal (muy picante)
9,95 €
Lamb Ceylon (Fairly Hot with Coconut)
Carne ceulon (bastante picante con coco)
9,95 €
Lamb Korma (Mild Dish Cooked with Cream)
Korma de cordero (plato suave cocinado con nata)
9,95 €
Lamb Malaya (Mild Dish with Pineapple)
Malaya de cordero (plato suave cocinado con piña)
9,95 €
Lamb Dopiaza (Spicy with Onions)
Dopiaza de cordero (especiado con cebollas)
9,95 €
Sag Gost (Spicy with Spinach)
Cordero sag (con espinacas)
9,95 €
Lamb Bhuna (Spicy & Slightly Dry)
Bhuna de cordero y champiñones
9,95 €
Lamb & Mushrooms Curry
Curry de cordero y champiñones
9,95 €
Prawn Curry
Curry de gambas
9,95 €
Prawn Madras (Fairly Hot)
Madras de gambas (bastante picante)
9,95 €
Prawn Vindaloo (Very Hot)
Gambas vindaloo (bastante picante)
9,95 €
Prawn Phal (Very Very Hot)
Phal gambas (muy picante)
9,95 €
Prawn Korma (Mild Dish Cooked with Cream)
Korma de gambas (plato suave cocinado con gambas)
9,95 €
Prawn Malaya (Mild Dish with Pineapple)
Gambas malaya (plato suave cocinado con piña)
9,95 €
Prawn Dopiaza (Spicy with Onions)
Gambas dopiaza (especiado con cebollas)
9,95 €
Sag Prawn (Spicy with Spinach)
Gambas sag (con espinacas)
9,95 €
Sabji Prawn (Spicy with Mixed Vegetable)
Gambas sabji (con mezcla de verduras)
9,95 €
King Prawn Curry
Curry de langostinos
11,95 €
King Prawn Madras (Fairly Hot)
Madras de langostinos (bastante picante)
11,95 €
King Prawn Vindaloo (Very Hot)
Langostinos vindaloo (bastante picante)
11,95 €
King Prawn Phal (Very Very Hot)
Langostinos phal (muy picante)
11,95 €
King Prawn Korma (Mild Dish Cooked with Cream)
Langostinos korma (plato suave cocinado con nata)
11,95 €
King Prawn Malaya (Mild Dish with Pineapple)
Langostinos malaya (plato suave cocinado con piña)
11,95 €
King Prawn Dopiaza (Spicy with Onions)
Langostinos dopiaza (especiado con cebollas)
11,95 €
Sag King Prawn (Spicy with Spinach)
Langostinos sag (con espinacas)
11,95 €
Sajbi King Prawn (Spicy with Mixed Vegetable)
Langostinos sajbi (con mezlca de verduras)
11,95 €
Chicken Tikka Dhansak
Pollo tikka dhansak
8,95 €
Lamb Tikka Dhansak
Cordero tikka dhansak
9,95 €
Prawn Dhansak
Gambas dhansak
9,95 €
King Prawn Dhansak
Langostinos dhansak
12,95 €
Vegetable Dhansak
Verduras dhansak
6,95 €
Chicken Tikka Pathia
Pollo tikka pathia
9,95 €
Meat Tikka Pathia
Carne tikka pathia
10,95 €
Prawn Pathia
Gambas pathia
9,95 €
King Prawn Pathia
Langostinos pathia
12,95 €
Vegetable Pathia
Verduras pathia
6,95 €
Chicken Rogan
Pollo rogan
7,95 €
King Prawn Rogan
Langostinos rogan
12,95 €
Vegetable Rogan
Verduras rogan
7,50 €
Mixed Vegetable Curry
Curry de verduras varias
5,95 €
Vegetable Korma (Mild & Creamy)
Verduras korma (suave y cremoso)
5,95 €
Vegetable Malaya (with Pineapple)
Verduras malaya con piña
5,95 €
Chana Masala (with Chick Peas)
Cahana masala (con garbanzos)
5,95 €
Vegetable Bhuna (Less Sauce)
Verduras bhuna (sin salsa)
5,95 €
Vegetable Jalfrezi (Fairly Hot with Onions and Capsicum)
Verduras jalfrezi (medianamente picante con cebolla y pimentón)
6,95 €
Karhai Vegetable (with Onions and Capsicum)
Verduras karhai (con cebolla y pimentón)
6,95 €
Sag Pasanda (Spinach with Cream & Yogurt Mild)
Verduras pasanda (espinacas con nata y yogur suave)
6,95 €
Sag / Aloo / Motor Paneer (Cooked with Cheese)
Cocinado con queso
7,50 €
White Wine Glass of House, 0.75L
2,50 €
White Wine Campo Viejo (Rioja), 0.75L
10,00 €
White Wine Antonio Barbadillo (Castillo de San Diego), 0.75L
12,95 €
White Wine Pinord Mireia, 0.75L
9,50 €
White Wine Marqués de Riscal, 0.75L
24,95 €
White Wine Mateus Blanco, 0.75L
9,50 €
White Wine Mono Pole Blanco (Rioja), 0.75L
10,00 €
White Wine Marqués de Cáceres Blanco Seco (Rioja), 0.75L
13,95 €
White Wine Lambrusco Blanco, 0.75L
8,50 €
Rose Wine Glass of House Rosé
2,50 €
Rosé Wine Homenaje, Navarra
12,95 €
House Rosé Laudum Wine, Alicante, 0.75L
9,95 €
Rosé Wine Mateus Rosa, 0.75L
12,95 €
Rosé Wine Marqués de Cáceres, 0.75L
13,95 €
Rosé Wine Faustino (Rioja), 0.75L
12,95 €
Rosé Wine Peñascal, 0.75L
12,95 €
Samosa de Verduras + 2 Pilau Rice (Basmati) + 2 Papadum + 2 Chicken Tikka Masala + Large Coke or Light
32,05 €
Bhaji de Cebolla + Mixed Vegetable Curry + Lamb Pasanda + Chicken Tikka + Large Coke or Light
31,80 €
Vegetable Korma (Mild & Creamy) + Lamb Tikka Biryani + Special Fried Rice + Large Coke or Light
24,20 €
Garlic Naan + Karahi King Prawn + Chicken Curry + Lemon Rice
26,50 €
Onion Bhaji
Bhaji de cebolla
2,95 €
Vegetable Samosa
Samosa verdura
3,25 €
Chicken Tikka
Pollo tikka
4,50 €
Garlic Mushrooms
Champiñones al ajo
3,50 €
Chicken Pakora
Pakora de pollo
4,50 €
Chicken Chaat
Pollo chaat
4,50 €
Prawn Puri
Puri de gambas
4,50 €
King Prawn Puri
Puri de langostinos
6,00 €
Tandoori Chicken
Pollo tandoori
4,50 €
Tandoori King Prawn
Tandoori de langostinos
6,50 €
King Prawn Butterfly
Langostinos mariposa
6,00 €
Red Wine Glass of House Red
2,50 €
Red Wine Ramón Bilbao Crianza, Rioja
14,95 €
Red Wine Laudum Roble, Alicante
13,95 €
Red Wine Lambrusco, Italia
12,95 €
House Red Wine Laudum, Alicante
9,95 €
Red Wine Marqués de Cáceres, 0.75L
14,95 €
Red Wine Marqués de Riscal (Rioja), 0.75L
24,95 €
Red Wine Siglo (Rioja), 0.75L
14,95 €
Fried Chicken
Pollo frito
7,95 €
Prawn Salad with Chips
Ensalada de gambas con patatas fritas
9,95 €
Garlic Mushroom & Omelette
Tortilla de cebolla y champiñón
9,95 €
Peshwari Naan
Pan de coco
2,95 €
Stuffed Paratha
Paratha relleno
3,50 €
Onion Salad
Ensalada de cebolla
0,50 €
Green Salad
Ensalada de lechuga
3,95 €
Papadum (Plain ir Masala)
0,60 €
Stuffed Paratha
Paratha relleno
3,50 €
Coffee
A elegir: White, Black Calypso, France, Russian
3,50 €
Champagne Moet Chandon, 0.75L
60,00 €
Mixed Vegetable Curry
Curri de verduras variadas
3,95 €
Dry Mixed Vegetable
Verduras variadas secas
3,95 €
Mushroomes Bhaji
Bhaji de champiñón
3,95 €
Bombay Potatoes
Patatas bombay
3,95 €
Cauliflower Bhaji
Coliflor Bhaji
3,95 €
Brinjal Bhaji
Bhaji de brinjal
3,95 €
Dhal Sambar (Frirly hot)
Bastante picante
3,95 €
Moto or Sag Paneer
Moto o sag queso
4,95 €
Contacta con nosotros
Encuéntranos
Calle San Fernardo 14, Alicante, 03002
Horario de apertura
Por favor, ten en cuenta que el tiempo de entrega puede variar
Realizamos entregas en
03001, 03002, 03003, 03004, 03005, 03006, 03007, 03008, 03009, 03010, 03012, 03013, 03015, 03016